Ever since I could remember, the city of Paris drew me in.
It wasn't flashy or tropical, but it had a distinct history, culture and refinement I knew Los Angeles lacked.
Fast forward to the present, to have never traveled outside the boundaries of the U.S. in your 30's sounds absurd, yes?
I grew up living an understandably sheltered life by two immigrant hard-working parents who never considered international travel to be a "right" or "a must" but instead an absurd luxury.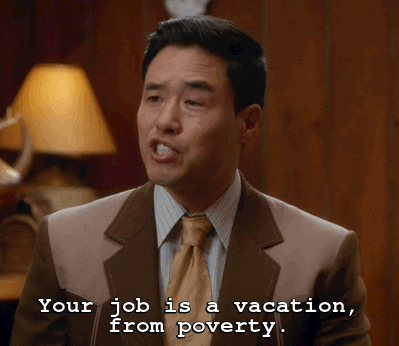 It took years to unbind myself from the same line of thought (I ignored many friends who insisted I travel in my 20's) and to convince myself that it's okay to be an entrepreneur and to take a vacation.
In fact, it's necessary to take a few steps back and get some distance, perspective, and some inspiration.
It took over three decades, months of mental preparation and a partner who understood it all but urged me to trust that the trip would be so very worth it for me to finally... make it to Paris.
= = =
*By the way, shameless thank you to my boyfriend DH who gifted me with this dreamy vacation as my Christmas present and took it to the next luxury level that was beyond my expectations and has now ruined me for every trip from here on out. I love you.*
After nearly missing our flight (I insisted on getting a peppermint mocha) we safely made it to the City of Lights.
We decided to AirBnb it to get a more neighborhood feel of the city and we chose District 7 which was a bit tourist-y due to its proximity to the Eiffel Tower, but we were in a perfect flat that was so beautiful and comfortable.
Did I mention the view?
Our 'home.'
= = =
Throughout the week we hit all the major spots:
I always thought, when I actually see the Eiffel Tower or the Louvre for the first time, it'll be breathtaking and surreal... but even then, those words still don't do it justice.
It was unreal and I was in love with every second of it.
Even when I was hangry and my feet hurt because I thought wearing boots all day would be fine.
(It wasn't fine. Nike Flyknits saved my life and our relationship as we know it.)
= = =
After the touristy spots- that were blessedly empty and free from obnoxious groups of tourists (you know what I'm talking about) I had to... just had to indulge slowly in the decadence of luxe shopping and mind-blowing sweets:
Okay.
There is absolutely no shopping mall in the United States that comes close to the decor that was in Lafayette Galeries.
Every night, I treated myself to a beautiful (almost too pretty to eat) cake or pastry for dessert.
What we in LA will drive miles for to savor for a special day or event, is at nearly every corner in Paris... and it is my version of heaven.
Although eating out was worth our while, we also found it very convenient to stock up on some snacks at the local market and eat at home too:
= = =
One funny and slightly embarrassing thing I noticed about Paris... no one really eats at a cafe!
Coming from LA where brunching is indeed a sport, the easy practice is to find a cute cafe to park it in with your friends and order the usual waffles, eggs benedict and coffee/water/juice combo to seal your meal of the morning/afternoon.
In Paris?
Not so much.
The tables are about 2 feet wide in diameter and your chairs do not face each other, they face outwards... towards the street.
Our AirBnb host, Julien, told me (in his thick French accent) "In Paris, we... maybe get up before noon? Drink wine. Smoke cigarettes. And sit on a terrace and talk shit about the people walking by~"
Regardless, I didn't care if I was in Paris or not- I need my brunch. LA-style stat.
I was not disappointed...
You see there was barely any room to fit all of our food - and we were 99.9% sure we were judged for it.
= = =
When we weren't hitting up the big sites or eating cheese and drinking espresso, we walked.
And walked.
We walked through empty streets, neighboring districts, and when we couldn't take it any longer, we thanked the technology gods for Uber:
1. Because we are Angelenos who are not used to that much walking.
2. Our shameful amount of French we 'learned' before this trip did not allow for us to communicate with French taxi drivers. It is a miracle we got back from Versailles. Lots of pointing. Lots of hand gestures. Lots of repetitive and panicky-hysterical bouts of us saying "Paris"?
"I don't even care how much it costs.
We're getting an Uber." - Jessica
The quieter moments we experienced in unknown parts tucked into the city remain just as prominent and special to this trip.
It is indeed what made this experience whole for me.
As we excitedly plan our next trip together, I'm confident now more than ever that you all were so very right when you said how traveling is necessary in life.
It is a luxury, yes, but it is one worth ensuring as we grow.
I hope to revisit Paris again but for now I say au revoir.
"If you are lucky enough to have lived in Paris as a young man, then wherever you go for the rest of your life, it stays with you, for Paris is a moveable feast."
-Ernest Hemingway
Till next time.
-Jess-